SSRS 2008 – index was outside the bounds of the array / Data source does not exist
Experienced this generic message from Bids / Visual Studio 2008 during a Reports migration project. No further information was provided. Most discussions online mention resolutions around report caching which wasn't applicable in my case. I resorted to the classic trial and error method – hack away removing objects from the report until the error message changed!
After removing everything from the report bar the main tablix object, I got to the underlying error message.
| | |
| --- | --- |
| | The dataset 'Connection' refers to the data source "DS_utils", which does not exist |
During migration, find and replace operations were applied against multiple report rdl files to amend data source connections in bulk. In the process, the Datasets' Datasource became decoupled from the Shared Data Sources it should have been pointing at due to a subtle difference in the case of the spelling. What threw me was the Designers Dataset Properties window showed the correct Data source name, with an uppercase 'U'.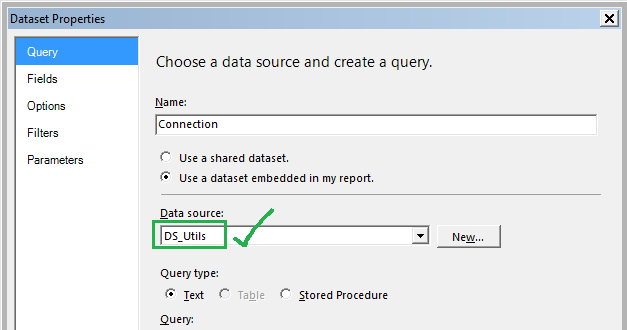 It was only in the report xml that the variation of spelling could be seen – with a lower case 'u' which I had to correct.